Kinderland provides quality infant care, bilingual kindergarten and preschool education for children aged 2 months to 6 years.
With more than 15 centres island wide, Kinderland centres are strategically positioned in residential areas and near workplaces.
For a start, Kinderland wanted us to generate interest in 2 particular centres – Loyang Point and Upper Changi – by getting parents to sign up for the open house or to schedule a weekday school tour at these 2 centres.
Hence, we targeted parents staying in the area near the 2 centres by using location targeting in ads.
Location targeting allows us to focus the ads on the areas where the parents are. Also, we could select locations to exclude.
This is important to ensure that parents who do not stay near the area do not see our ads.
This is because even if they click on the ads, it is unlikely that their interest would be as high as parents who stay nearby the centre.
Thus, to avoid wasting the ad dollars, we focused our ads in these

two areas

and excluded all others.
One would think that this is a logical and straightforward strategy, but not everyone can execute it correctly and effectively. For instance, a quick search with the keywords 'Kinderland Singapore' revealed an ad for an indoor children's playground located in Austria!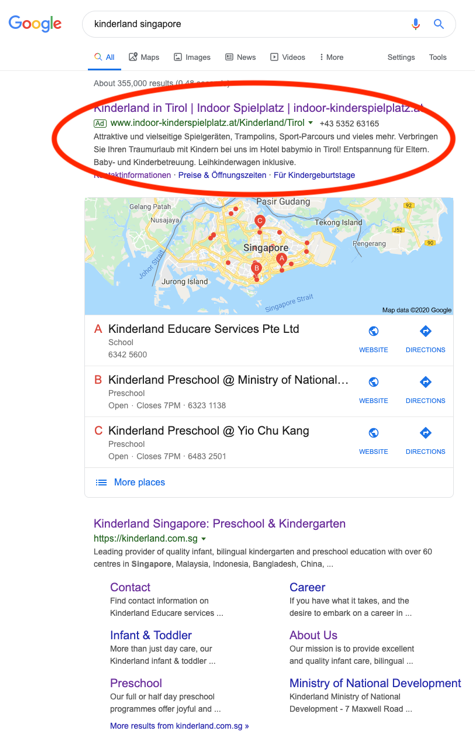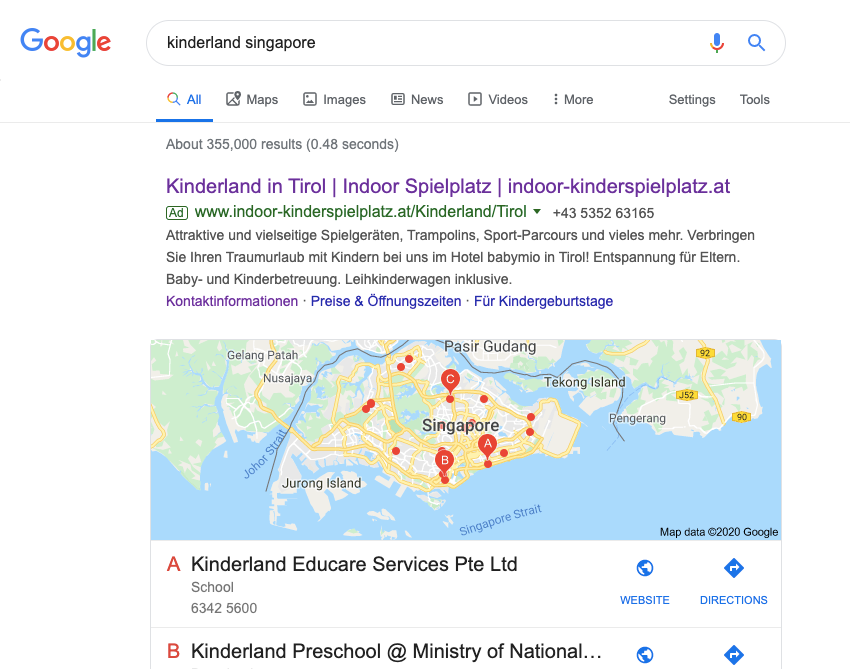 Besides using location targeting, we also created Facebook ads to generate sign-ups for their openhouse or the tour. We created a series of Facebook ads with variations of ad copy as well as images.
This allowed us to reach out to parents who had absolutely no knowledge of Kinderland. These parents would not be searching on Google and hence would not see our Google ads.
While running these Facebook ads, we were able to use the data generated from these ads to evaluate which ones

performed best.
We learnt that ads which showed children actively participating and enjoying preschool activities were more effective in getting parents to click through to our dedicated landing page, which was optimised by us to get as many leads as possible for the two Kinderland centres at Loyang Point and Upper Changi.
Kinderland was so pleased with the results from this campaign that they engaged us for a second campaign!
This time, instead of just two centres, they wanted us to run a large-scale campaign for all their centres.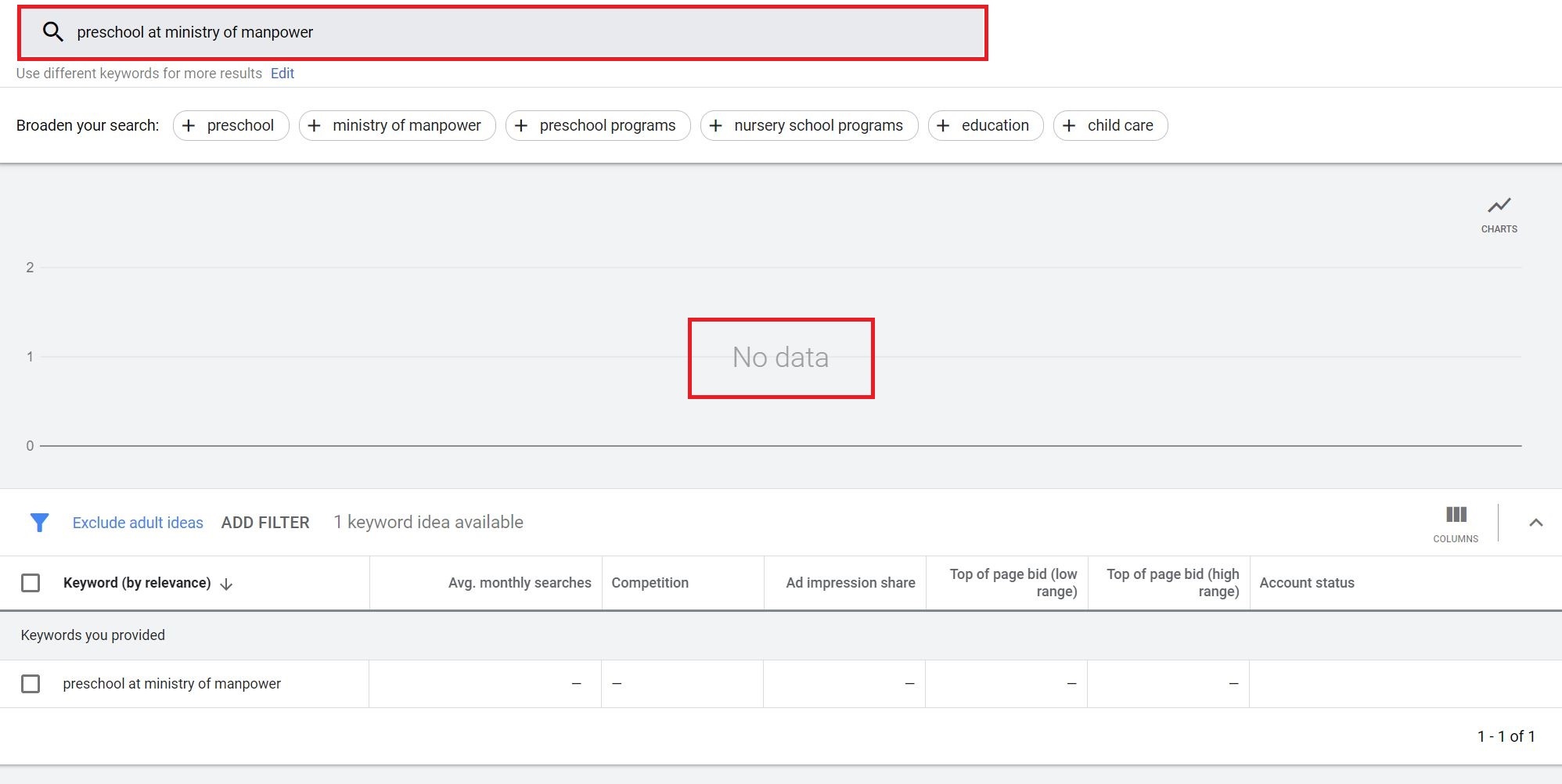 Two new challenges that we faced with this second campaign were
Low search volume for some centres, namely the ones near workplaces (non-residential areas)
Some centres were located very close to each other, making location targeting more complicated
For the first challenge, we had to find a way to generate interest in Kinderland's workplace centres. One of their workplace centres was located at Ministry of Manpower at Havelock Road.
However, as it was unlikely that people would include 'Ministry of Manpower' as part of their search for preschools, our ads would not show up.
Hence, we had to investigate the area near these workplace centres and predict what search terms parents were using in this area in order to increase the visibility of our ads.
The second challenge needed us to zoom in on the different locations of the centres across Singapore so that we could see which ones were located close to each other.
This meant that for these centres, we needed to segregate the ads properly to avoid having any ads overlapping each other.
For example, if someone were to search for a preschool in Kovan, we had to make sure that either the ad for the Serangoon centre or the one for the Hougang centre would show up.
Without segregating the ads properly, both ads might show up for the same search query and only one ad would be clicked.
The other ad would then be interpreted as 'less relevant' by Google, which would drive up the cost-per-click. We wanted to avoid this situation as it is not a good way to manage Kinderland's ad dollars.
Besides overcoming these challenges, we also implemented Facebook remarketing to target parents who were already familiar with Kinderland but did not immediately sign up for the open house or school tour.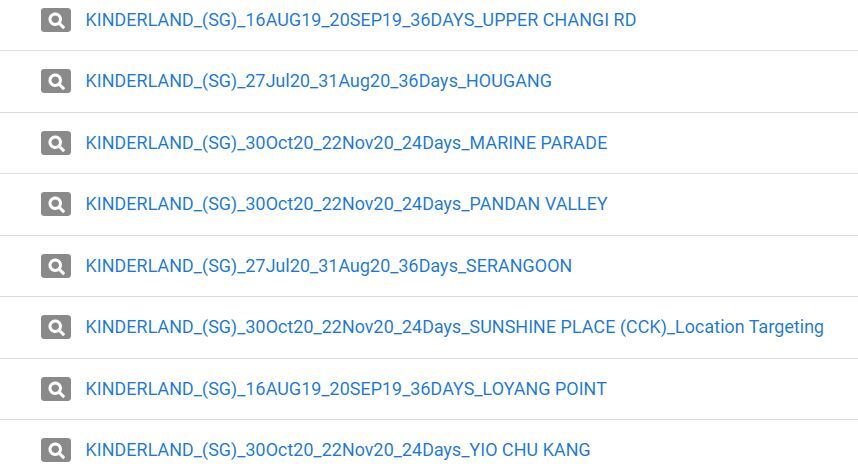 All these efforts proved effective as we reduced

the cost-per-acquisition by 50%

from the first campaign to the second campaign!
Achieve your business goals with qualified leads and sales today!
Get in touch with us here