Every business relies on visibility on search engines to attract more clients and build a brand. This requires a strategic and consistent marketing strategy.
Search Engine Optimization (SEO) is a digital internet marketing strategy that is vital for all businesses with an online presence. SEO helps to determine a website's ranking on search engines, like Google, Yahoo, and Bing.
Ranking on the first pages on popular search engines is critical. How often do you get to Google's third page when searching? Did you know that up to 92% of google clicks are on the first page? Only 0.78% of searcher view and click links on Google's second page.
For your site to feature amongst the first on google and other commonly used search engines, you need to do more than build links. You need to have an SEO strategy that is in sync with your digital marketing efforts.
You can't afford to make errors in SEO. The foundation is critical since every step you take has an impact on your business. Remember, your competition is working just as hard to rank higher than you, and possibly retain the upper hand.
What is local SEO?
Approximately 87% of Singaporeans use the internet. This figure is likely to rise to 97% by 2023. More than 50% of searches have a local intent, and about 88% of mobile device searches result in an office call or visit.
Every business should endeavor to include local SEO in the digital marketing space. When local SEO is done effectively, you will increase awareness of your products and services to local customers. 97% of internet users find out about companies in their locality online. Today, most walk-in clients purposely walk into a business premise after an online search of the products and services offered.
Google continually makes changes to its Search Engine Results Page (SERP). Local search engine intent questions are increasingly influencing these changes. This is one of the fundamentally why every business should include local SEO.
How Does SEO Benefit Your Business?
Create a Brand and become a household name
Business is tough, especially when you are getting stiff competition from other companies selling the same products and services. How then do you ensure your company is the first that comes to mind when a customer needs your services?
An online presence is critical for every business, including those that only provide services to the locals. An excellent SEO strategy will rank your site higher than your competitors. This increases the likely hood of more traffic to your website and a rise in sales.  As long as you maintain a high ranking in search engines, your target market will seek you out.
SEO Improves User Experience
Before SEO became an integral part of digital marketing, companies came up with marketing campaigns in the hope that it would appeal to their target audience. Search engines have made marketing easier for companies since it is now easier to identify what potential clients need and how to appeal to them.
Some of the aspects that SEO addresses include relevant information, mobile-friendly website configuration, easy to navigate web pages, and ideal photos and videos to support the text.
Expand Your Reach
Increased product awareness has mainly been responsible for business expansion, especially for companies that have since become global. Once you realize you have an international outreach, it is easy to determine whether it is a great idea to expand your business. When your company already has clients in another location, opening a branch in alternative locations is easier.
Cost-effective Marketing Strategy
Digital marketing can be expensive, especially when you employ costly marketing campaigns. SEO is one of the cheapest and most effective marketing styles. You can also quantify the level of success since you can see your ranking improve, and the impact this has on the traffic to your website.
The Cost of SEO in Singapore
Cost and return on investment are critical for every business. Some businesses have trouble investing in SEO because they worry about costs. Although the cost of SEO is vital, it shouldn't be the only thing to guide you when choosing who to handle your company's SEO.
Before seeking assistance with SEO, you need to understand that this is a long-term commitment. Unfortunately, many companies relax once they get to the first page on a search engine. This period of inactiveness is likely to cause your company to lose your slot on the first page, especially if your competitors are working hard to rank higher, while you take a break.
The cost of SEO is highly dependent on the expertise of an SEO agency. As a business person, time is of the essence. Some SEO experts charge a higher price but can deliver the results quickly, while others may charge a lower price and take longer to get your website the ideal rank on the first page on the search engine. Attaching a cost to time will help you determine the opportunity cost of a lower rate.
What Influences the Cost of SEO?
Several factors influence the cost of SEO in Singapore. Before committing to a particular package, you must understand what you will be paying for and how to assess the results. Some of the factors that influence the cost of SEO include;
The Marketing Techniques Used
Although SEO has the same target, to get a business to improve its ranking on search engines, the techniques used vary. For example, the use of blog content, visual content, webinars, content distribution, Vlogs, and so much more. Some of these techniques demand more time and commitment.
Experience
An SEO agency that doesn't have an extensive portfolio may charge a lower rate than a company with the experience and SEO expertise. It is, however, essential to consider the possibility that the most expensive SEO company may not be the most effective.
How Fast do You Want to See the Results?
SEO is not a marketing strategy that has immediate results. It can take up to five months before you start seeing progress on your company's ranking on Google. However, some SEO agencies are willing to spend more time on the optimization, but at a price. This way, you get to see the results much faster.
Why You Should Choose Us for SEO
Customized Service
Every business is unique. We will analyze your company's goals, target audience, industry, and SEO needs before coming up with an effective digital marketing strategy.
Transparency
SEO is a complicated concept for many businesses, primarily because it is an invisible marketing concept, with visible results. It is unlike other marketing techniques, but quite effective. We understand how frustrating this can be. We will keep you updated on what we are doing, why we are doing it, and the progress of the campaign.
Target Your Audience
Your target audience is critical in SEO. Before identifying an SEO strategy, we will learn everything about your target market and industry. For example, if you are running a software company, we will analyze the software needs of your target market, and come up with an SEO campaign that systematically improves your ranking and organic traffic.
Follow Search Engine Algorithm Changes
Search engines frequently change their algorithm. We monitor these changes closely and make the necessary changes to ensure your site adapts to the changes. This way, you'll maintain your rank, despite the altered algorithm.
Our SEO Services
Competitor research
Competitor analysis
Website analysis
Indexing
Content strategy
Keyword analysis
Title tag optimization
HTML Sitemap creation
Link building
Broken link fixing
Social media engagement
SEO friendly URL
Monthly performance and tracking
User experience strategy
Google Tools set up
Local SEO Bundle to Boost Your Ranking
Local citations
Rank on Google maps
Improve your Google listing
Monthly Reporting
SEO Driven Quality Articles
Keyword Research
On-page optimization
On-demand
Comprehensive and data-driven articles
Unlimited Revision
On-demand
A concise guide to distribution
Standard SEO Bundle
This is an excellent package for small businesses. It provides your business with the right SEO foundation for your digital marketing space. This package includes;
Keyword research
Content Marketing
Conversion optimization
Link Building
Frequently Asked Questions on SEO
Why is Search Engine Optimization (SEO) important?
The internet has become the source of information for millions of people. Customers use search engines to find companies that provide a service they need. SEO helps companies to become visible to people in need of their services. Without SEO, your website will only get visits from people who know it, and that will significantly limit your potential.
About 65% of people who use Google to find out about a product or service click on the first five links. People trust search engines, and SEO helps to
Why is Search Engine Optimization (SEO) important?
The internet has become the source of information for millions of people. Customers use search engines to find companies that provide a service they need. SEO helps companies to become visible to people in need of their services. Without SEO, your website will only get visits from people who know it, and that will significantly limit your potential.
It is estimated that 65% of people who use Google to find out about a product or service click on the first five links. People trust search engines, and SEO gives your company credibility. When your site is among the top five on Google's first page, you have a great chance of converting a curious visitor into a paying client.
SEO also helps you to determine what your target audience is looking for, and how to meet this need. Organizing your marketing campaign based on what your potential clients need will subsequently lead to increased organic traffic, engagement and conversion.
Who should do Search Engine Optimization?
If you have a website, you should do search engine optimization. The world has become a global village connected by the internet. Whether your site is for informing people about your services, your ideas, or you are just sharing information, you need SEO. This is one way to get more leads, organic traffic, and conversion. A beautifully done, informative website will not meet its potential if you don't optimize it.
How can Search Engine Optimization (SEO) help in my business?
Marketing is critical for every business. However, not all marketing strategies have the desired impact. SEO is a form of marketing that lets people know of your company, and the service you offer.
Instead of going out to look for customers, SEO drives potential customers to your site. Besides attracting more people to your website and increasing your conversion rate, SEO will save you the money you would have spent on numerous marketing campaigns.
Will blogging help SEO?
Yes, blogging is an integral part of SEO. Each new content you create is an opportunity to come up with a target keyword related to your business. The higher the content quality, the greater the possibility of driving organic traffic to your site.
Case study: How we helped Prestigious International School increase their organic traffic by 52.51% in less than 2 months
In just a few weeks, our team at Visibiliti helped a prestigious International School, one of Singapore's most established International Baccalaureate (IB) schools, surge organic traffic by 52.51% – an impressive 2,028 unique users – in two months. In other words, we achieved what would otherwise have cost over $8,000 on SEM just by SEO alone.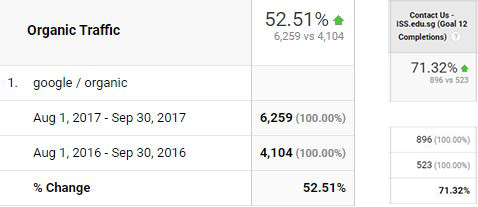 And if just 10% of these visitors enroll their children at the school, that means an additional 202 students!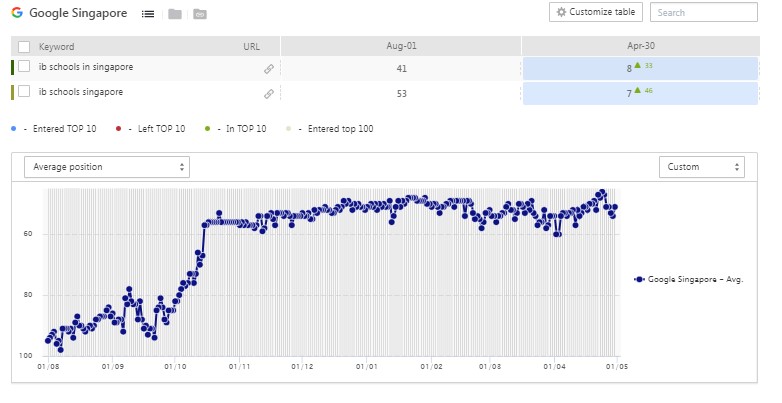 Competition was heating up with more and more IB schools mushrooming in the past few years – yet interest was also higher than ever, with as many as 390 searches for IB /private education-related keywords in a month.

However, with 75% of people not scrolling past Page One, they were getting lost on the information highway. They knew they couldn't afford to rank on Page Two or Three… not to mention Five, which was where they were, if they wanted to retain brand leadership.
We knew improving the site's visibility across this range of keywords would be vital if they wanted to capture their share of valuable traffic.
How did we do it?  
Here's exactly how we helped them achieve success quickly:
Analyse analyse analyse 
The trick to coming up with a solid strategy – SEO or otherwise – is knowing what's working, what's not, and the gaps between the desired and current reality. Only then, can we power the school's site into a high-profile one capitalising on the top industry keywords.
While Prestigious International School already had a natural backlink profile and some social media signals, their site lacked topical authority ("depth of expertise"). This meant that their core product, IB education, was not only not getting the notice it deserved – it was also not ranking well for those keywords that provided the most valuable traffic, quality and quantity wise.

This was correlated by the average amount of impressions Prestigious International School had received over the past 6 months.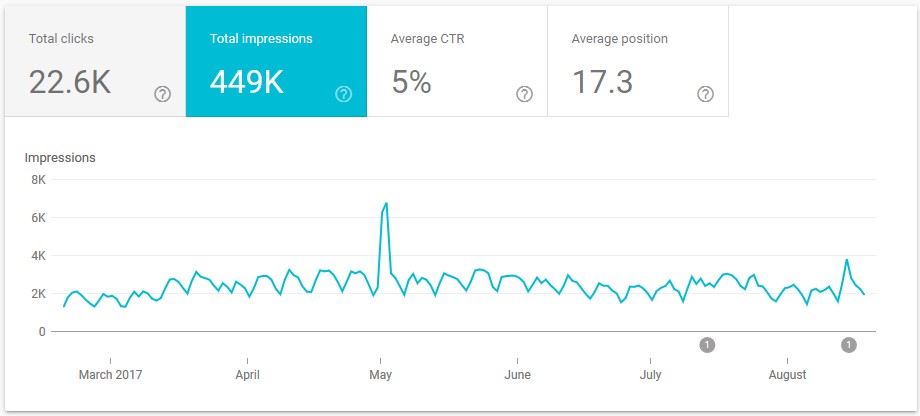 (6 months before SEO optimisation. Data from Google Search Console)
2. Restructure for results
Next, in order to reap much-needed performance gains, we needed to
Focus on competitiveness and user behaviour
To improve search results and ensure Prestigious International School wasn't losing valuable traffic to competitors, we leveraged the low-hanging fruit: previously under-utilised TOFU search terms for competitiveness, as well our understanding of users' search behaviour.
To help Prestigious International School maximise their budget, we focused solely on keywords that reflect visitors' search and purchase intent – and hence they are easier to convert since you're giving them the answers to what they're looking for.
We then mapped the relevant pages to these keywords and optimised them even further.
II) Create a dedicated IB category page
To facilitate visitors' fact-finding journey and decision-making process, we created a dedicated IB category page to:
Consolidate all the IB programmes from early years to the diploma programme
Act as a one-stop page that gives the visitor all the information he/she needs at a glance
We also included the school's unique selling points at the bottom of this page followed by a call to action. At this stage of the funnel, we felt that parents may need the added push in order to enrol their children in the school.
And in case the visitor needed to take a step back again to compare or review the programmes, we ensured they were all intuitively interlinked. Additionally, this boosted the site's overall topical authority and relevance.
III) Optimise the entire site for mobile visitors
This may sound commonsensical, but with mobile's market share dominating desktop by almost 60%, it was a much-needed speed boost.
The result? An improvement in the user experience by shortening and improving the quality of the decision-making process.
Not surprisingly, after 1.5 months, the site had steadily scaled the ranks. Impressions and clicks shot up too…

Not bad for a few weeks' work, right?
Contact our team if you'd like Visibiliti to optimise your site for performance too!
The numbers
The average cost per click (CPC) in Google Adwords is between $2.50 to $3.50 per click for private preschools, while the CPC is around $3.00 to $5.00 at the tertiary level, so let's assume an average of $4.00 per click. To get the same number of visitors via SEM, Prestigious International School would have had to invest $8,112 ($4.00 x 2,028 visitors). Assuming an SEO budget of $1,300 per month, it would have saved $6,162 [$8,112 – ($1,300 x 1.5)].